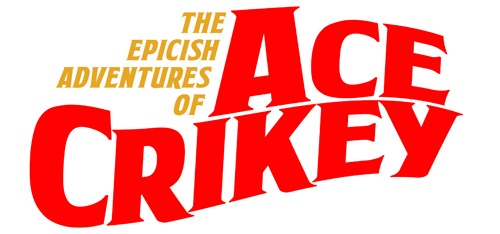 Adventure / Humour / Science Fiction (sort of)

"He has come into possession of something that – in the wrong hands – could potentially be a very, very dangerous weapon."
"A gun?"
"No, Ace. It's not a gun."
"A gun's a dangerous weapon."
"I'm thinking of something a lot more dangerous than that."
I considered this. "A bazooka?"
The second thrilling Ace Crikey adventure sees our hero facing his greatest challenge yet: a cross-dimensional, death-defying journey of extremest danger against his new arch-enemy, the dastardly Professor MacHine! Along the way he gains a new ally and ends up on the receiving end of some very strange looks when he's caught talking to himself.
This time, Ace has to do more than just save the day: he has to save the entire WEEK!
Complete with an all-new, never-before-seen chapter that's absolutely packed with exciting words like "interrogate" and "foist" - plus many more!
Worldwide: October 2016
Cover by Michael Carroll